Respiratory Tract Infection (FLU)
Just like humans cat can catch the flu. Usually this is transferable through other animals. The cat flue can be caused by several viruses that attack the cat's respiratory system. The cat flu most often is fatal, especially left untreated. There is a possibility for the cat to survive the cat flu, however, one the cat has contracted the virus it will be a carrier for the rest of his or her life.
Symptoms
Fever
Problems Breathing
Runny eyes
Sneezing
Mucous discharge from the nose
Loss of appetite
Excessive Saliva
Causes
Cats most often catch the cat flu from other cats. It is especially problematic in large cat populations and in feral cat colonies. The cat flu is highly contagious and vaccines do not always protect a cat from getting the flu.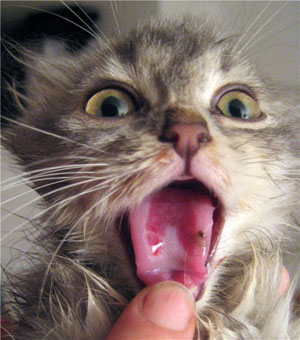 Preventative Treatment
Keep your cat indoors as much as possible. Keep your cat away from strange or infected cats. Good nutrition and a balanced diet can also help.
Treatment
Since the cat flu can be cause from different types of viruses, your vet will need to identify the afflicting virus in order to properly treat your cat. Sick cats are usually kept warm and encouraged to eat and drink. Your vet will usually prescribe antibiotics and anti-viral eye drops for your cat. Excessive discharge from the eyes and nose are also routinely cleaned.
One Response to Respiratory Tract Infection (FLU)